"Build to rebuild": a look back at the Entropie project in 2018
Since 2018, the Maisons du Monde Foundation has supported the Entropie association in setting up "accompanied auto-production" courses for people in great socio-professional difficulty.

This people are reintegrating an apartment va the Totem social operation after a period of homelessness (social, family health difficulties, or difficulties finding housing, etc,). However, the extremely small size of the housing offered often compromises their long-term installation. That is why Entropie accompanies them in the creation of a piece of furniture of their choice made with recycled wood.

With the participants improving their living conditions, they rediscover a sense of legitimacy in appropriating their apartment. In addition to the acquisition of technical know-how, these workshops help to restore their self-respect and encourages them to act!

Thanks to the partnership with the Foundation, 5 people learned how to make the object of their choice with Entropie's help in 2018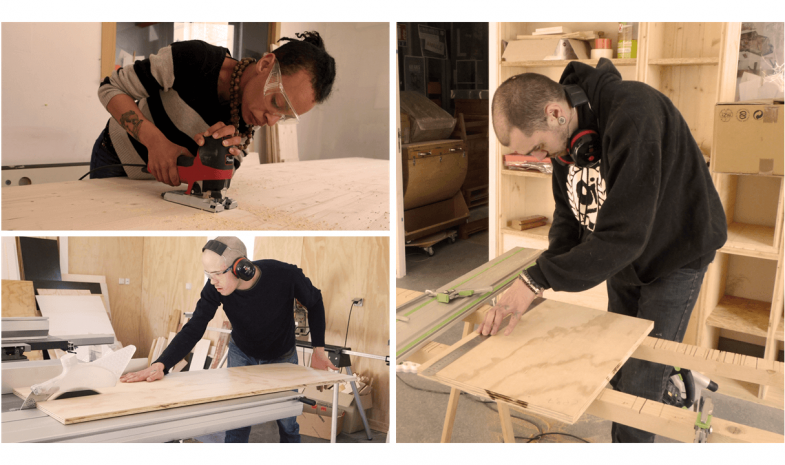 their stories and their projects
Sid, a 24-year old man, has always wanted to have a place where he could express his drawing skills. After a period of homelessness, Entropie helped him to make a piece of furniture and start to make use of his passion. With his natural ingenuity and the team's expertise, he was able to create the modular coffee table of his dreams, combining storage space, a desk, and a drawing table.
Laetitia, an energetic 26-year old nursing assistant who experienced a number of difficulties after deciding to leave the family nest. Wishing to redesign her apartment in order to be able live there in a more functional manner, she was put in touch with the association via the Totem operation. After several meetings, the team and Laetitia decided to get to work and create a mezzanine that would allow her to really feel at home!
Julien, an enthusiastic 27-year old chef, despaired at not being able to cook at home because of a lack of storage and a suitable working space. Therefore, it was completely natural for him to design a proper work surface with shelves in his kitchen. After a few weeks designing his unit, he started making it in the association's joinery workshop in Mens under the supervision of the technical team. This workshop allowed him to discover different woodworking tools and learn how to create original cupboard doors from chipboard off-cuts in different colours!
Bobby and Ratiba, respectively 24 and 34 years old, were the first two people to meet Entropie. Without any real kitchen space in their apartments, they started designing their respective units, the results of which will be presented soon!
Finally, a collective workshop organised by the Totem operation allows several of their beneficiaries to work together to build a small kiosk-donation space-communication space that will be placed at the entrance to the structure that supports them! This workshop offers the chance to create a dynamic around DIY and offer the campaign a convivial moment that will favour the creation of relationships and mutual support between the beneficiaries. The kiosk will be built at the end of May 2019.