Let's all support the
FOYER NOTRE-DAME DES SANS-ABRI
ARRONDI is supporting the FOYER NOTRE-DAME DES SANS-ABRI in all Maisons du Monde stores!

From 15 September and up to 14 January 2018 inclusive, 100% of your "micro-donations" will be transferred to the Association Foyer Notre-Dame des Sans-Abris for its project "Le mobilier de 2mains".


The Notre-Dame shelter's project aims to propose qualifying training courses on furniture repair to persons in the process of professional reinsertion. 
By offering them the opportunity to learn how to restore wooden furniture, the Notre-Dame shelter has a mission which is therefore both social and environmental. It helps people in situations of exclusion to find a job and reintegrate into society, while at the same giving a second life to furniture which would otherwise have been thrown away!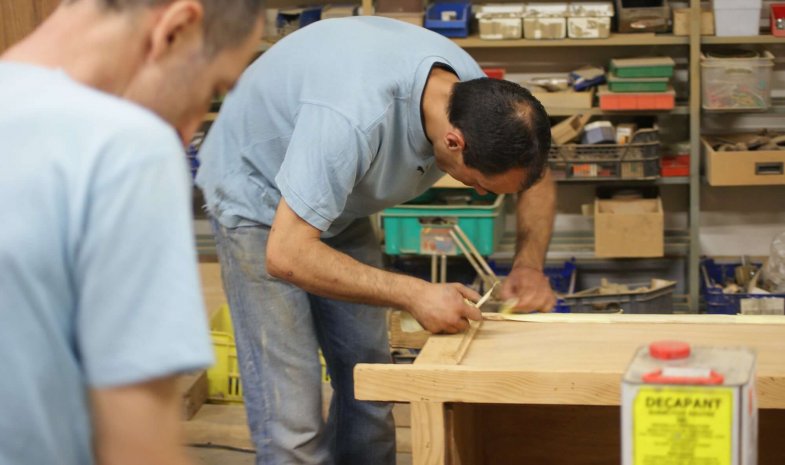 Two Professional Qualification Certificates have now been created through this project: "Trainer of furniture and decorative object restorers" and "Furniture and decorative object restorer".
Selected following the First Call for Projects by the Maisons du Monde Foundation for a three-year support, this project is implemented together with:
Eco-mobilier for their expertise in the collection and restoration of old furniture
The UNAMA (the French national union of crafts in the furniture trade) to set up training courses for persons in situations of insertion.
The FOYER NOTRE-DAME is the project pilot structure, which is testing this new system for 3 years. This partnership will offer the association's employees training and the possibility of obtaining a diploma. This initiative will eventually be deployed throughout France for all associations in this sector of activity: they will therefore be able to propose to persons in the process of professional reinsertion a training course recognised by the State leading to a new innovating trade!
For more information about the FOYER NOTRE-DAME DES SANS-ABRI