Supporting associations
"MATERIA 4.0" project
France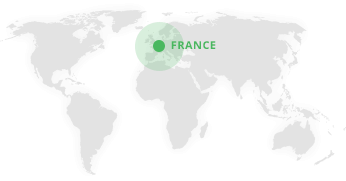 Back to the list of projectsSupporting associations
Promote people and materials that have been left behind via a circular economy and solidarity based approach.
"MATERIA 4.0" project
Project leader


Duration of the partnership
2016-2021
Location
France
See on the map
The project and its challenges
The MATERIA 4.0 project is led by the DECHET au DESIGN Workshop. Created in January 2014, the latter is a socio-professional integration workshop that mass produces new objects from waste collected from enterprises and associations in the region. The materials collected are then selected and processed in API'UP's workshops. The process uses Upcycling, an activity which is part of the industrial sector and which implies the standardisation of processes, requiring the intervention of an industrial designer.
The LEXI recycled wood module is one of the most accomplished products of this eco-design and local circular economy approach by API'UP. A range of furniture featuring about thirty versions of this module have been created with a view to training employees in integration in cutting-edge techniques.
The API'UP project also meets a regional context of high social demand with an increase in unemployment and poverty, and is part of an eco-design and circular economy approach.
Thanks to initial support provided by the Maisons du Monde Foundation between 2016 and 2018, API'IP set up various actions in order to develop the wood recycling project in Capbreton.
A look back at the results of the main actions:
–          Recycling of 241 tonnes of wood off-cuts from used furniture or wood.
–          Production of 2,738 items of furniture, 1,709 of which are LEXI units made with 241 tonnes of wood off-cuts.
–          Implication of 71 people in integration in the project's development.
Thanks to the renewal of this partnership, the API'UP team is planning to reinforce its actions in the frame of the MATERIA project, its new R&D and Design innovation programme.
The goals for 2019-2021 are as follows:
–          Reinforce technological innovation and design in order to recycle even more waste materials and less attractive off-cuts, such as used chipboard.
–          Develop its MATERIA 4.0 programme with a view to producing upcycled ecological composites from industrial waste.
–          The challenge of this programme in particular is to find solutions for recycling off-cuts of used chipboard, the stock of which is likely to increase greatly over the coming years with difficulties for the recycling sector.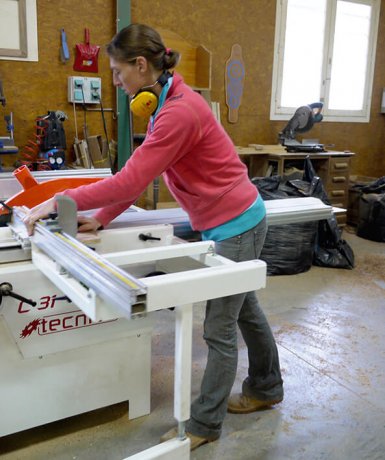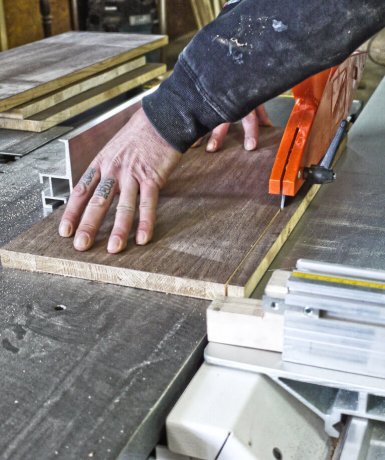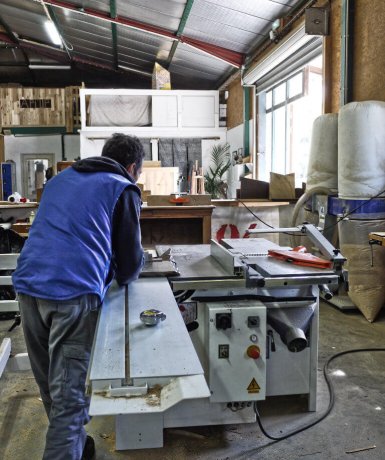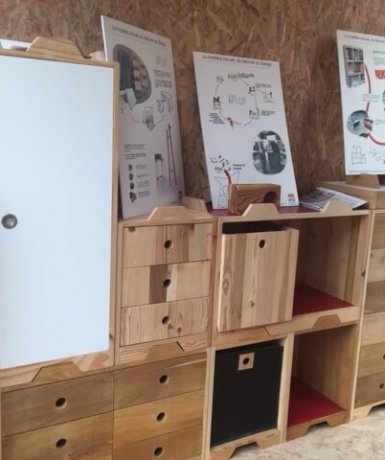 Beneficiaries
In 2019, the project welcomed 17 people with an integration contract, supported by 2 technical supervisors and 1 administrative supervisor. A production assistant was also hired in 2019 from among the people with an integration contract working on the LEXI project.
The project's assets
API'UP offers the chance to work on a very technical and technologically innovative project that uses cutting-edge procedures, and which requires employees to train and discover cutting-edge professions. The development of a working procedure allows them to be part of a professional integration process in a very technical business setting. Also, the project's originality is the empowerment of employees: after three months of support, which mainly involves the resolution of the employees' social problems, many tasks are left entirely under their responsibility. 16 stages of technical and professional development are set up in order to be able to welcome people with different backgrounds thanks to a system that is adapted to the employee's profile and evolution.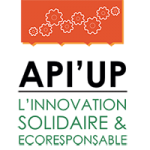 Project leader API'UP
The Association API'UP, a job training program created in 2012, develops solidarity-based economic activities in the circular economy. API'UP promotes the social inclusion and employability of vulnerable people, by combining social, technological and environmental innovation in a spirit of sustainability, promoting recycling and upcycling of waste generated by local businesses, and protecting the environment and natural resources. API'UP began running its job training program, Atelier du Déchet au Design, in January 2014.
Website